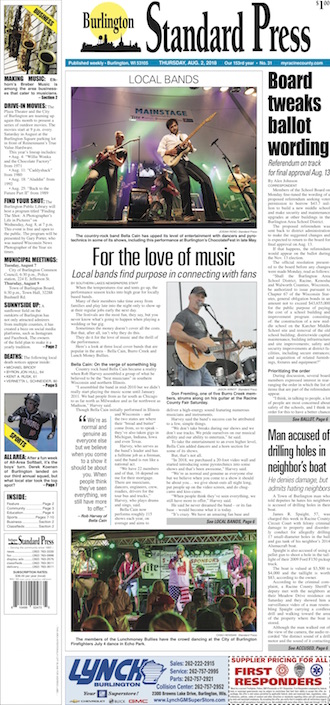 So, what's it like to play in a local cover band? Well, the hours are terrible, the time away from family is tough and the early morning meetings at your regular job the next day are brutal.
But…it's still a chance to make music with some friends in front of raucous and appreciative audiences.
In other words, the love of music trumps the drawbacks for many small-time performers.
You'll get those insights and more from members of local bands Bella Cain, Lunchmoney Bullies and Burro Creek in a front-page feature in this week's edition of the Burlington Standard Press.
The newspaper will be on sale at retail outlets throughout the area on Thursday. Subscribers will receive the newspaper in Thursday's mail deliver. To subscribe, click here: SUBSCRIBE.
Here's a look at some of the other stories in this week's edition:
REFERENDUM QUESTION TWEAKED: Members of the Burlington Area School District Board of Education on Monday fine-tuned the wording of a proposed referendum seeking approval to borrow $43.7 million for a new middle school and security and maintenance upgrades at other district buildings. Find out what changes were made.
MAN ACCUSED OF DRILLING HOLES IN BOAT: A Burlington man admitted hating his neighbors to deputies, but denied drilling holes in their boat, despite video evidence suggesting otherwise.
SUNNYSIDE UP: A sunflower field on the outskirts of Burlington has not only attracted admirers from multiple counties, it has created a buzz on social media platforms, such as Instagram and Facebook.
CENTER RAMPS UP: After months of planning and discussion, the Burlington Senior Center is ready to unveil a full slate of programming in August.
YOUTH AMBASSADORS: The Kwiatkowski family will participate in the Juvenile Diabetes Research Foundation Walk next month for the 12th straight year. But the 2018 event will definitely not be an ordinary one for the Burlington family. Graelen Kwiatkowski, 13, and Crue Kwiatkowski, 8, are this year's JDRF Youth Ambassadors and will deliver speeches to those in attendance.
ALL-AREA BASEBALL: Find out which Burlington player landed the coveted Player of the Year honors on this season's Southern Lakes Newspapers All-Area Baseball Team.
Comments
comments